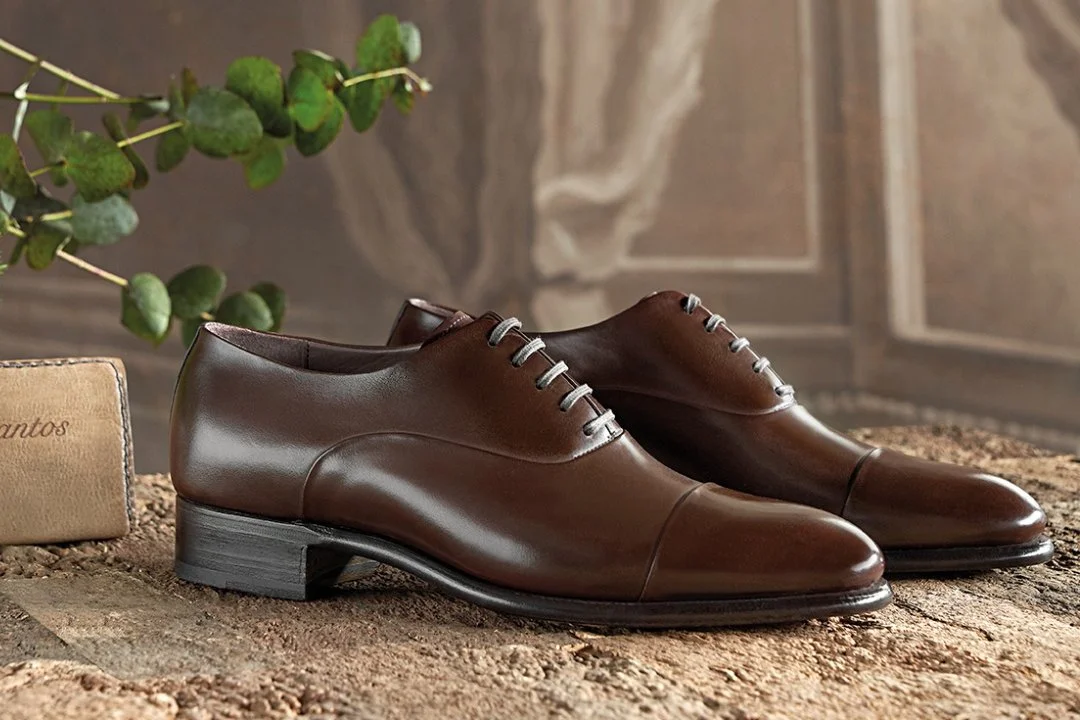 Creating the perfect wedding look is like assembling a puzzle. Every piece matters, including the shoes. Picking the wrong style or color can mess up the whole picture you've put together with care. So, choosing the right wedding shoes is a big deal. Some guys don't pay much attention to this, but if you want to nail your wedding day look, keep reading to learn how to choose the perfect shoes.
Your chosen wedding attire, whether a formal suit or a more relaxed ensemble, serves as the guiding compass for your footwear selection. The formality of your outfit should harmonize with the formality of your shoes; a more formal outfit demands equally sophisticated footwear, while a casual ensemble pairs well with less formal shoes. Without further ado, let us delve into our curated selection of recommended shoe choices.
Wedding shoes with a tuxedo
If you've opted for a tuxedo for your wedding, selecting the right shoes becomes straightforward. The Black Tie ensemble calls for a handful of styles: timeless patent leather oxfords or derbies, and the more elegant velvet loafers. The former suits any occasion, while the latter adds a touch of distinction, especially for indoor weddings or when seeking a unique flair.
Wedding shoes with a dark suit
When donning a dark suit, aim to complement it with shoes in corresponding darker shades – black or deep brown. For a classic appeal, opt for derbies or oxfords; however, if you're leaning towards a touch of intrigue and individuality, consider monk strap shoes – a particularly stylish match, especially when paired with a double-breasted suit. Both options exude a sense of style and seamlessly harmonize with dark suits.
Wedding shoes with a light suit
Should your wedding attire involve a lighter-hued suit, coordinating your shoes with complementary lighter shades is the key. Given the relatively less formal nature of a light suit, a broader array of shoe styles becomes viable. Loafers can elegantly accompany the ensemble, alongside the classic choices of oxfords or derbies. Yet, if you lean towards loafers, it's worth noting that they pair seamlessly with fine socks, infusing your look with added grace and refinement.
Wedding shoes with a Smart Casual outfit
With the exception of the most formal choice, oxfords, nearly all shoe styles harmonize seamlessly with a jacket and trousers pairing. We suggest reserving these shoes solely for pairing with a suit. Just as you would with your suit, harmonize the shoe color with your trousers; however, steer clear of black, which may overly accentuate formality and compromise style. For a Smart Casual ensemble, consider opting for minimalist sneakers, introducing a relaxed and breezy element to your outfit.
Wedding shoes with a winter suit
Let's also spotlight the winter suit, which offers a chance to stylishly incorporate boots into your ensemble. While this doesn't imply resorting to hiking boots, opting for refined, sleek leather options in darker tones can superbly accentuate your wedding look, whether it's a suit or a Smart Casual outfit. Lace-up boots as well as Chelsea boots can serve as excellent selections, provided they don't lean excessively towards casual and rugged aesthetics.
These are our top shoe recommendations for grooms, designed to complement a diverse array of wedding ensembles. We trust that these suggestions will streamline your search for the perfect wedding shoes, but should any uncertainties linger, please don't hesitate to reach out to us via email or private message.