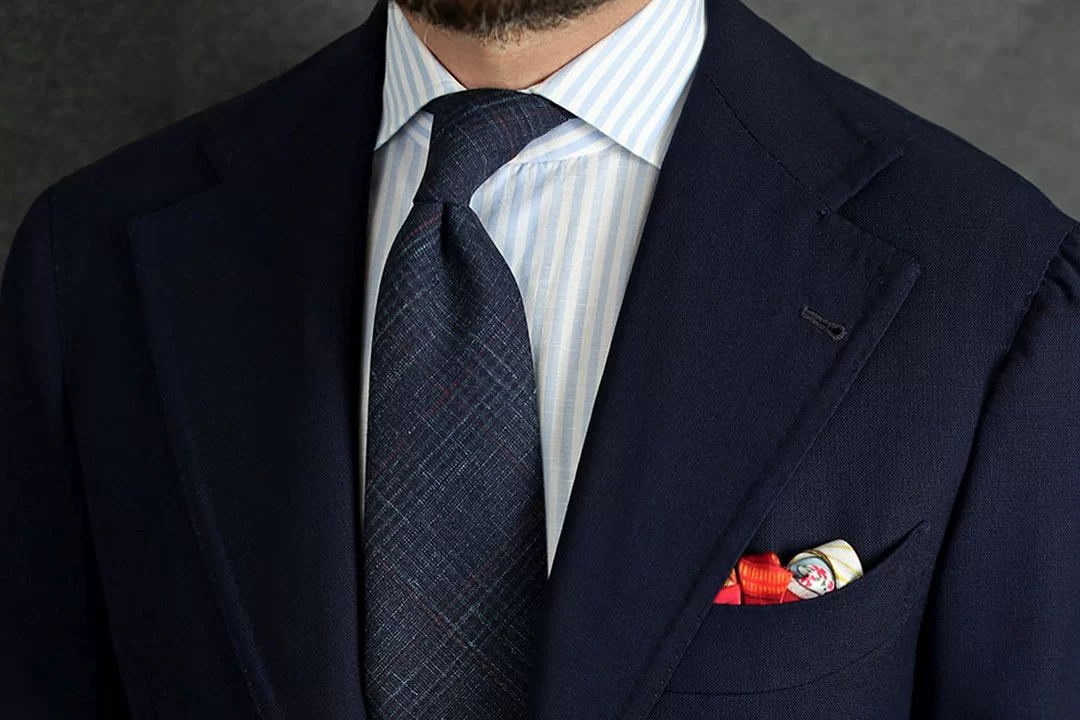 Matching a tie, shirt, and suit or blazer is a skill every stylish gentleman should know. But the reality is, to say the least, a bit sad – only a handful of men can actually combine these items into good-looking outfits, that attract the eye and receive compliments.
That's why we have created this easy-to-learn guide that will help you learn how to combine these pieces of clothing effortlessly. And who knows – maybe a suit, shirt, and tie will become your best companions in both – formal and casual wear. At the very least, you won't look like a boring politician every time you wear a suit.
How to match a tie color to a shirt and suit
Combining the colors of a tie, shirt and suit is perhaps one of the most interesting and creative aspects of men's clothing, thanks to which you can create stylish and original outfits. According to the classic color wheel, all of the colors can be divided into four main color matching groups, which differ from each other according to how high or low the color contrast is between the parts of the outfit.
Monochromatic color scheme
It is a combination of darker and lighter shades of the same color. One of the most popular examples is a navy blue tie and a blue blazer. A monochromatic combination is a safe and easy way to start experimenting with colors. Of course, this minimalistic color scheme might look too bland to some of you so feel free to skip to other, more colorful examples.
On the other hand, if you're in love with all things minimal you can then go one step further – give up all the patterns and just go with a plain colored suit, shirt, and tie in lighter and darker shades of he same (blue, for example) color. This way you would create a stylish and modern ensemble that's actually quite trendy at the moment of writing (late 2022).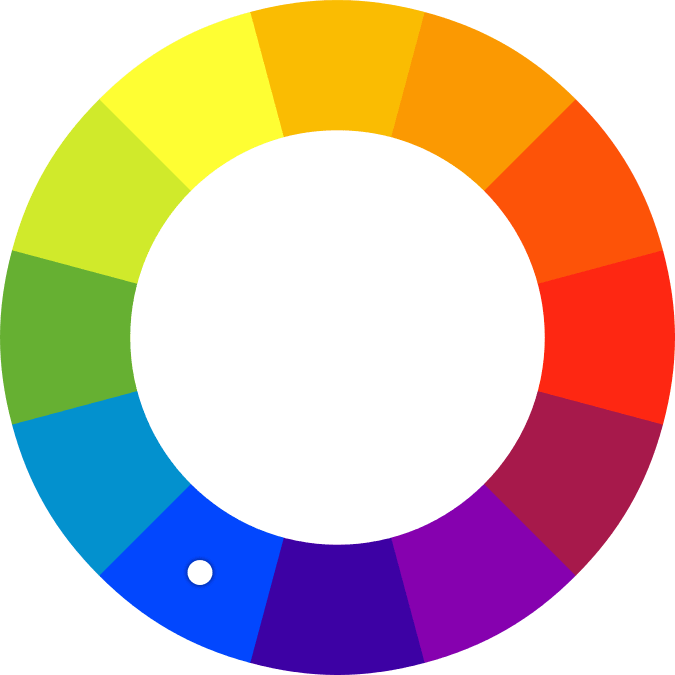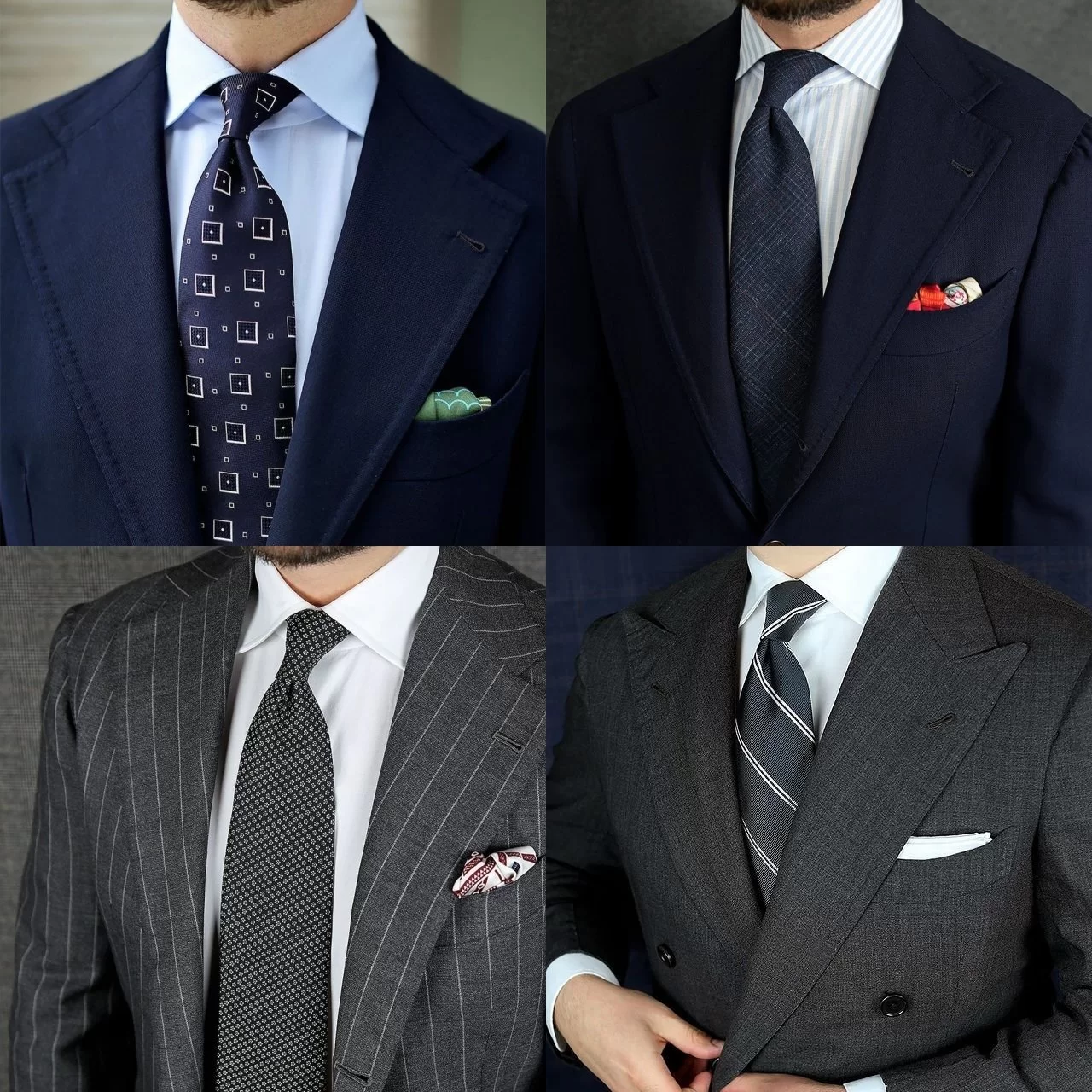 Analogous color scheme
The next step is the matching of analogous colors. This color combination involves choosing adjacent colors on the color wheel. For example, a dark blue blazer and a purple or olive green tie. This is more interesting and slightly brighter than the monochromatic color combination and is suitable for all situations. This color scheme is very balanced and introduces an element of sophistication without being too bold, which makes it a perfect choice for business and corporate settings.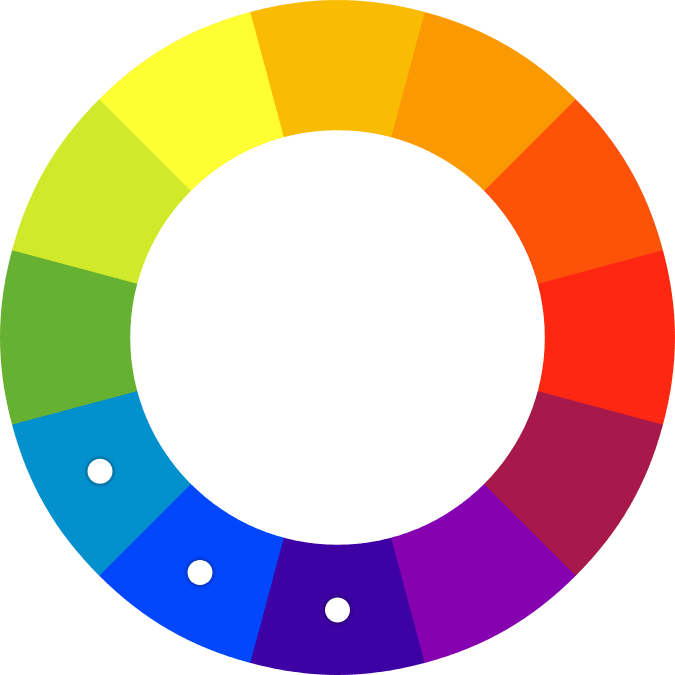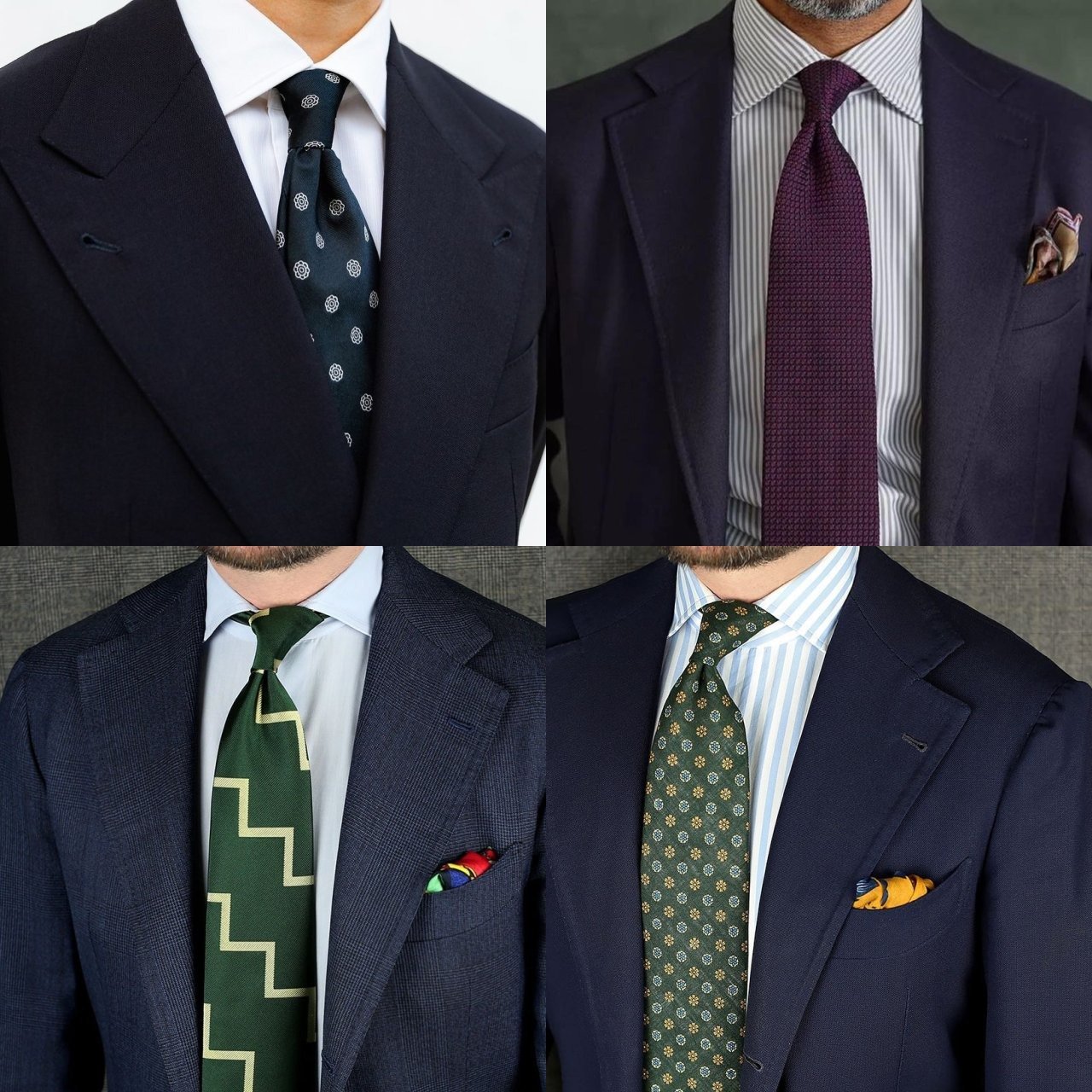 Triadic color scheme
Triadic color scheme – three colors that are equidistant from each other in the color wheel. You've probably used this scheme before, as one of its most popular examples is a red or yellow tie and a blue suit or blazer. A triadic color scheme is a very versatile scheme and can be used at work and for formal social events such as weddings. Just remember that the brighter the tie, the less formal the outfit will look, and vice versa.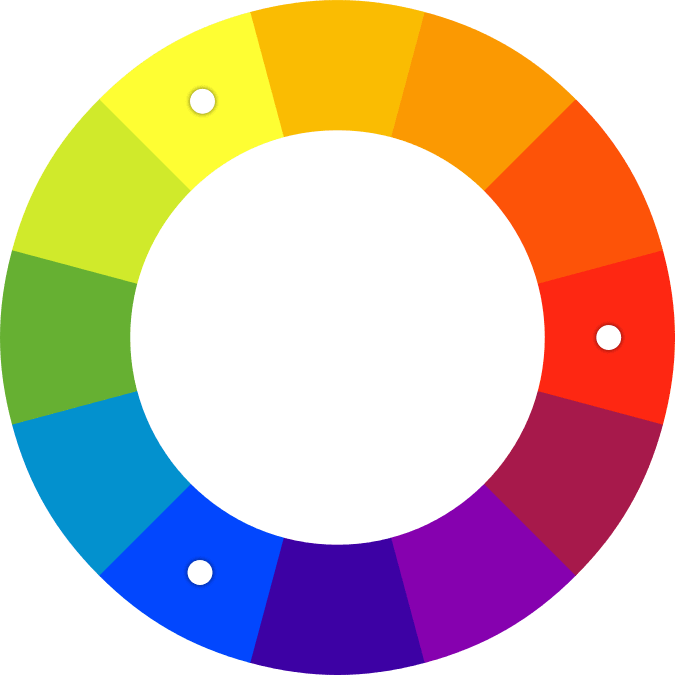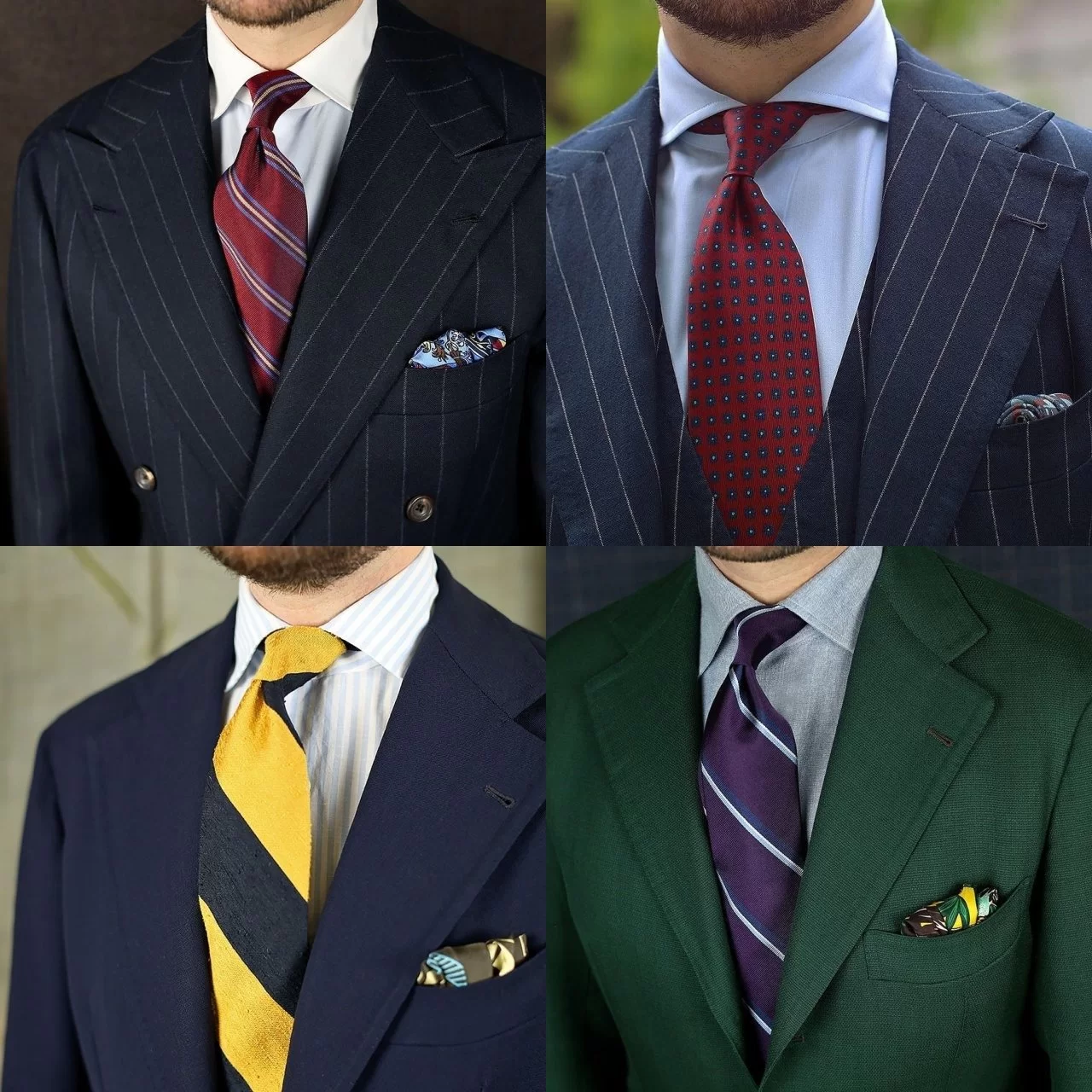 Complimentary color scheme
Colors on the opposite sides of the color wheel create the brightest and most contrasting combination. A blue blazer and orange tie would be a good example of this. Due to its brightness and uniqueness, this combination is most suitable in a non-binding, informal environment and might be inappropriate for a workplace or more professional setting.
To reduce the brightness and color contrast between the clothing pieces you can choose darker color shades for a tie and suit. You can see that in the images above – the ensembles on the left are more muted, whereas the ones on the right are brighter and have more contrast.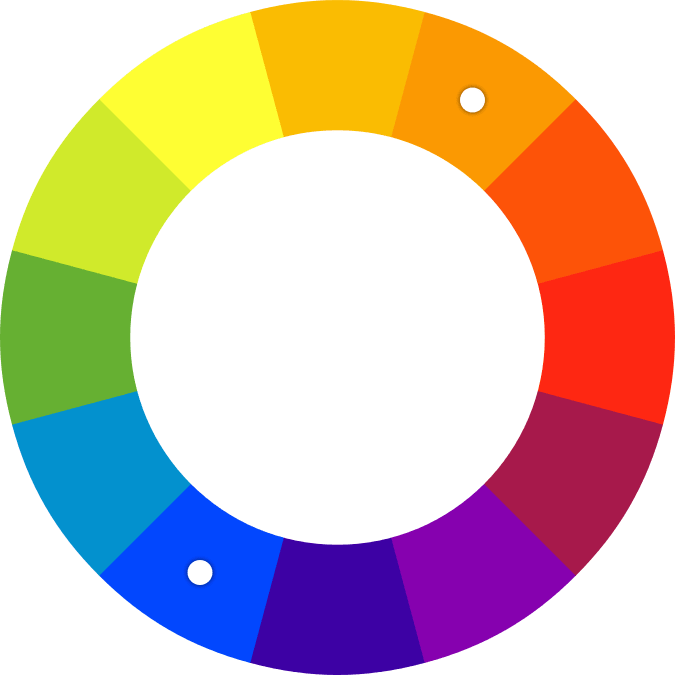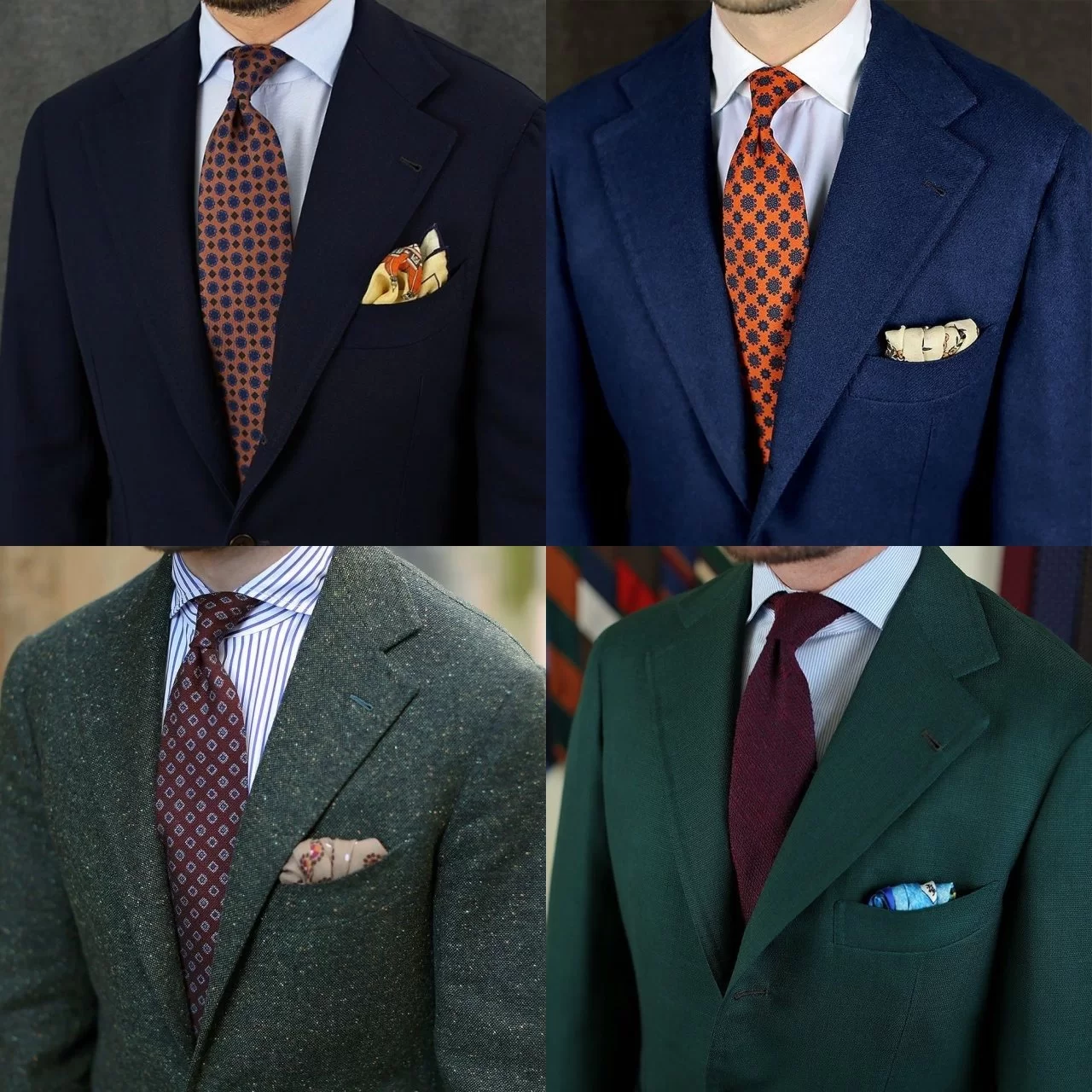 How to match tie, shirt, and suit patterns
Matching patterns is one of the more difficult tasks to master and can sometimes even feel frustrating, but do not worry about that, because were are here to help. Of course, you can always choose plain ties, shirts, and suits, but we're not here to create boring combinations, are we? That's why it's worth familiarizing yourself with the basic pattern-matching rules and guidelines that will teach you how to create stylish and interesting tie, shirt, and suit combinations.
One pattern
When only one part of the outfit has a pattern, everything is very simple – you can choose it as you like because this pattern will be the main accent of the outfit. It will not compete with other parts of your ensemble as the rest of them will be plain, without patterns. A combination with one pattern is a safe and neat-looking solution, suitable when you don't want to think too much about what and how to match, but still want to look stylish.
You can also make an easy upgrade to this combination by adding some texture. A good example of that would be a grenadine or knitted tie in plain color matched with a patterned suit or shirt. This way you will add some depth and texture to your ensemble and make it look more stylish and interesting.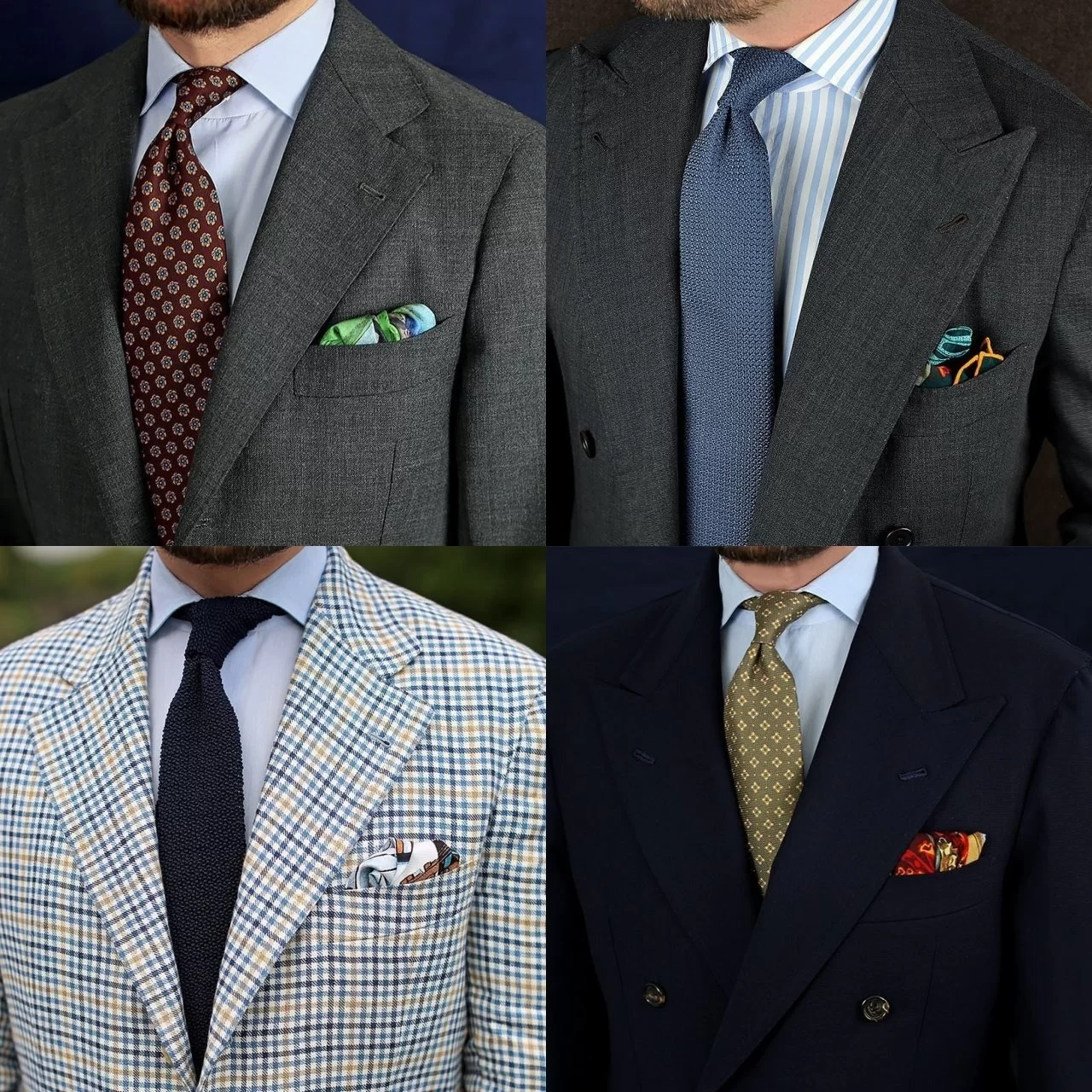 Two patterns
If two pieces of clothing have a pattern, then the tie, shirt, and suit should be combined a little bit more carefully so that their patterns do not compete and overshadow each other. Although this might sound confusing at the beginning, it's actually quite easy and you can do it in a couple of ways.
1. Wearing different patterns
Choose pieces of clothing that have different patterns. For example, a striped suit and a dotted tie. Even if both of these patterns are bright, the combination will still look good, because the patterns will complement each other.
2. Wearing the same patterns
If you want to wear two patterns that are the same, then you have two choices:
Pick one that is brighter than the other. A good example of that would be a light blue pinstripe shirt and a tie with bright white stripes.
Pick them in different proportions. A good example would be a shirt with thin dense stripes and a tie with thick sparse stripes.
In both of these cases, you will have one dominant pattern in your ensemble and there won't be any pattern clash where both of them would compete for attention.
Three patterns
And now, the biggest challenge – three patterns. When all the parts of the outfit – tie, shirt, and blazer – have patterns, it is very important to combine them with utmost precision to avoid making style mistakes and looking like a Christmas tree. We recommend experimenting with this combination only when you are comfortable with mixing two patterns.
Your approach should be the same as with two patterns – choose different patterns or the same ones but in varying brightness and proportions. You can get a pretty good idea of how to do that with style by looking at the images above. Although all of the outfits in the pictures are using three different patterns you can see that the ensembles look very different.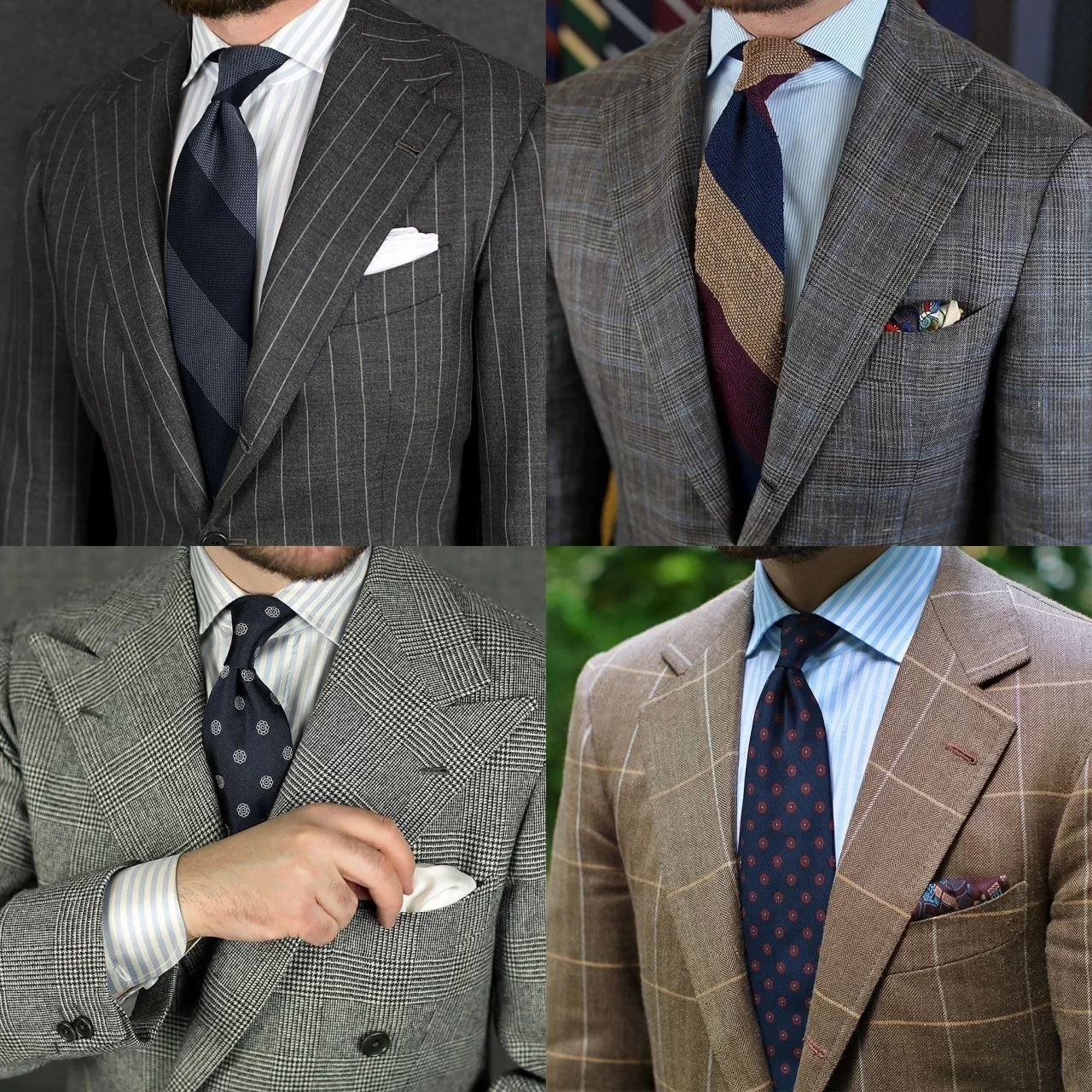 How to match tie and suit fabrics
And now, let's turn our attention to the third and final consideration when matching a tie to your suit and shirt – the fabrics. Even though printed or woven silk is the most popular tie fabric, other fabrics – linen, cotton, and wool – can also be used during various times of the year to match your suit fabrics. So, let's dig a bit deeper and learn to match them.
Silk tie
It's the most versatile tie fabric that looks best with suits made of worsted wool. The reason for this is that both of these fabrics have glossiness so they will look in harmony when combined together. If the silk tie doesn't have any glossiness or has very little then you can even wear it with summer or winter suits made of linen, cotton, or flannel wool.
Linen and cotton tie
This is a perfect tie fabric for summer. As it does not have any glossiness it's best suited to wear with suits or blazers made of cotton or linen. These ties also look more casual compared to the silk ones so it's best to wear them in casual settings.
Wool tie
This heavy-weight fabric is a perfect choice for colder months when you wear suits and blazers made of thick flannel wool or tweed. Like linen and cotton ties, wool ties are also on the casual side so you should avoid wearing them with thin worsted wool suits.
Well, if you read through all of this, then you have earned a big thank you from us! We hope that we were able to help you better understand the matching of various colors, patterns, and fabrics and how to put together your next outfit. Of course, if you still have questions don't hesitate to drop us an email or send a message.